Još nekoliko sati dijeli nas od nove godine, u kojoj svi očekujemo da bude bolja od prethodne, po pitanju svih sfera života: poslovne, životne, i svake druge. Posebno u Bosni i Hercegovini ljudi isčekuju poboljšanje prije svega političke, a onda i ekonomske situacije, otvaranje radnih mjesta, i boljeg života. Ali to zasigurno jos nećemo dočekati ma koliko to priželjkivali.
2010 godina za blog je pravi procvat. Kao nikad do sada ljudi su dolazili na blog i čitali postove koje sam pisao. A ove godine pisao sam ne samo o .NET tehnologijama i programskom jeziku C#, nego i drugim temama, poput društvenih mreža, reportaža sa ICT konferencija, i sl, tako da je i oficijelna WordPress ocjena sljedeća: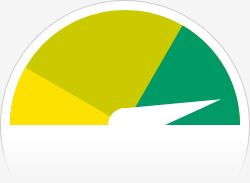 Blog-Health-o-Meter™ ocjena  Wow.
Preko 22.000 puta blog je otvorio neko na webu. U 2010 godini napisao sam 82 nova posta, tako da je arhiva narasla na 152 blog posta, dovoljna da se napišu dvije knjige. Najprometniji dan bio je 7. juli sa 205 pregleda.
Stranice s kojih je najviše dolazilo čitalaca je google.com, twitter.com, facebook.com, gpdotnet.codeplex.com, mscommunity.ba .
Pored nedvojbene statistike bhrnjica.wordpress.com blog se uvrstio u prvih 15 blogova u BiH, a poredak se redovno ažurira na Prvom BH blog direktoriju: http://www.bhblog.ba
Ove godine sam konačno objavio nedovršeni tekst iz 1996 godine iz matematike, koji se dosta puno čitao na blogu. Napisao sam 4 blog posta u kojoim sam sumirao cjelokupni tekst a na kraju kad sam ga iz rukopisa pretvorio u digitalnu formu i objavio.
GPdotNET open source projekt takodjer se puno čitao i posjećivao. Ljudi iz cijelog svijeta većinom profesori javljali su se mailom da upitaju i pohvale projekat, kao i da postave pitanje ili problem na koji su nailazili. Poprilično je posjećen na codeplex stranici obzirom da je projekat vezan za uska područja modeliranja i evolucijskih algoritama.
2010 godine počela je saradnja i sa prvim ITPro elektronskim magazinom u BiH za IC Tehnologije. Objavljeno je nekoliko članaka koje sam pisao, a još nekoliko će se objaviti u skoroj budućnosti.
Ove godine osnovao sam i pokrenuo Bihac .NET user grupu koja je već održala 5 sastanaka i preko 120 ljudi prisustvovalo sastancima. Odziv za grupu je vrlo dobar i u narednom periodu očekujem još veću popularnost.
Druga polovina godine na profesionalnom planu bilježi veću angažiranost na Silverlight i Windows Phone 7 tehnologijama. U toku je realizacija jednog Silverlight projekta na kojem intenzivno radim. Otud i 4 nastavka blog posta iz teme Rzvoja Silverlight poslovnih aplikacija.
I na kraju da objavim statistiku mojih načitanijih blog postova u 2010 godini, a da ne bi bilo štele biće prikazan screenshot statistike:
Kao što se može vidjeti najčitaniji blog post je WinForms Chart kontrola, iza nje je Matematička indukcija i slijede ostalih 20 blog postova i stranica na blogu.
Stranica sa najviše komentara je GPdotNET sa 23 komentara.
Sretna nova godina!
Happy new year!